Terms & Conditions
Akaroa TOP 10 Holiday Park
Please read carefully before your stay to maximise the enjoyment of your holiday.
All rates are GST (15%) inclusive and are in New Zealand dollars ($NZD). We accept payments by internet banking, Visa and MasterCard. A 2.6% fee will be added to all bookings paid via credit card (including debit cards & paywave).
Reservations are a contract between Akaroa TOP 10 Holiday Park and the person named on the reservation. It is not transferable to any other person. This means that the person named on the reservation must occupy the camping site or room for the duration of the contract and is responsible for all occupants and visitors of that camping site or room.
Seasons
HIGH – 16th December to after Waitangi Weekend, Easter & Labour Weekend. All roofed accommodation command a 2-4 person minimum tariff per night (depending on the room type) over the high season plus additional charges for extra persons. All sites command a minimum tariff of $70 per night plus additional charges for extra persons.
AUTUMN SHOULDER – after Waitangi Weekend to May 2nd (excluding Easter).
LOW – May 3rd to September 30th.
SPRING SHOULDER – October 1st to December 16th (excluding Labour Weekend).
Shoulder and Low season prices are based on 2 person occupancy plus additional charges for extra persons.
Cancellations
A cancellation fee applies to all bookings. Once checked in at the property there are no refunds!
STANDARD RATE reservations a 75% refund of the full booking amount will apply to cancellations 72 hours or more before the date of arrival. No refunds will apply to cancellations within 72 hours of the date of arrival (Excluding high Season).
BEST FLEXIBLE RATE reservations can be changed and cancelled up to 24 hours prior to arrival. Reservations cancelled within 24 hours of arrival will be refunded if we manage to resell the unit, less 5% cancellation fee.
HIGH SEASON (22nd Dec – 6th Feb) reservations: Cancellations must be made prior to 30th November to receive a 75% refund of the full booking amount. Any cancellations/re-bookings after this date will result in a loss of deposit. Any reductions in dates after the 30th November will incur a site minimum fee of $70.00/night for the 2023/24 High seasons. Units/Cabins cannot have the dates reduced.
Minimum Stay
Minimum stay periods may apply to weekends, public holidays and high season.
All bookings for high season require a minimum of 5 nights for units and 3 nights for sites. If your stay is under the minimum required nights, we cannot guarantee a 'specific' site/unit, particularly over the high season. Should we have to move you, we will endeavor to contact you.
A minimum 2 night's stay for roofed accommodation required for all weekends during Shoulder season.
LONG WEEKENDS : Easter: We require a 3 night minimum in all units and on sites. Labour weekend and Canterbury Anniversary: We require a 2 or 3 night minimum stay in all units and sites. All other public holidays: We require a 2 or 3 night minimum stay in all of our roofed accommodation.
Park Information and Rules
These are printed on the park map available at the office or can be viewed on our website. These must be complied with at all times or you may be asked to vacate the park.
Guests must be 18 years or older if not accompanied by parents/guardians to stay.
Gate Pin Code/Park Access 
An individual gate pin code will be issued on arrival which is required to enter and exit the Park. It is important that children do not use the code and that you do not disclose your code to others.
Groups
We reserve the right to charge a bond to all groups, refundable after departure if all rules are adhered to.
Reservations are a contract between Akaroa TOP 10 Holiday Park and the person named on the reservation and is not transferable to any other person. This means that the named person must occupy the roofed accommodation/site booked for the duration of the contract and is ultimately responsible for all occupants and visitors.
For group bookings this means one person is ultimately responsible/liable for group behaviour and damage. Amendments to confirmed group bookings may incur a $30.00 admin fee, per change.
Group Cancellations
Deposits will be refunded 90 days prior to arrival minus a $30 cancellation fee per unit/ site. 50% is refundable between 90-60 days prior to arrival, anything less than 60 days prior to arrival, no refund can be given. We also have a no refund policy once checked in. Group bookings are considered to be two units/sites booked together.
Conduct
Akaroa TOP 10 Holiday Park does not accept abuse in any form aimed at our staff members and/or patrons. If you are found to be abusing our staff members or patrons, we reserve the right to have you immediately removed from the premises without any reimbursement or accommodation costs. Akaroa TOP 10 Holiday Park accepts no responsibility for any additional accommodation charges incurred due to an eviction from our premises.
Reasonable behavior and dress at all times. Excessive drinking and loud parties are not acceptable. Liquor only to be consumed on your own site or in your own unit.
We are a family-based park and ask that you are thoughtful, to your fellow guests at all times. Complete quietness between the hours of 10:00 pm and before 7:00 am. The only exception is New Year's Eve, which is 12:30 am.
As a guide if you can be heard more than a site away you are too noisy. No music or radios after 10:00 pm. Management reserves the right to cancel tenancy at any time of any person or group, who in the opinion of the management, behave in an objectionable manner or contravene the Holiday Park rules. There will be no refund of fees paid. Loud swearing or bad language will not be tolerated.
Akaroa TOP 10 Holiday Park reserves the right to refuse entry and/or request termination of booking without refund regarding disorderly conduct.
Tents
Electricity can only be connected through an approved isolating transformer or RCD Safety Switch or lead.
EV Charging
EV charging must be discussed with park management before plugging in.
Reception Hours
Reception is open daily. 8:30 am – 8:30 pm
Christmas Day: open for limited hours, please enquire with reception.
Check-in and Check-out times
Check-In Time: from 2:00 pm for all units and sites. Please advise if arriving later than 8:00 pm so arrangements can be made for a late check-in. You may call on 0800 727 525 or email stay@akaroatop10.co.nz
Check-Out Time: no later than 10:00 am for both sites and roofed accommodation on the day of departure unless by prior arrangement.
Deposits
A deposit of 25% is required for all powered/unpowered sites and a deposit of 50% is required on all roofed accommodation during High season.
A deposit of the first night's stay is required on all reservations during Shoulder/Low season. All deposits are payable at the time of booking.
Payments
The balance of the reservation for bookings between the 26th December and 31st January is payable before arrival. For bookings outside this date range, the balance of the reservation is payable in full on arrival.
Rebooking
If guests wish to rebook for the following year, then the relevant deposit must be paid before departure to secure the booking. It is the guests responsibility to ensure that your site is rebooked.
Confirmation Letters
These are generated once deposit has been paid and either given/sent at time of booking or re-booking. Please check them carefully and notify us of any changes or all details will be taken as correct.
Refunds
There will be no refund for early departure or late arrival. This includes conditions due to natural causes i.e. weather. This also applies to guests who are asked to leave the park because of their behaviour. Guests are liable for the full amount of stay as booked.
Tariff/Prices
Our tariffs are reviewed annually for the new season. Please be aware prices may change when booking in advance from one season to the next. Prices are subject to change without prior notification.
Caravans/Campervans
Require a current Electrical Warrant of Fitness displayed and comply with LPG Standard (As/NZS3100) LPG Standard (NZS 5428:2006).  All campervans and caravans must have their own wastewater container.  Chemical toilets must be emptied in dump stations. Management reserve the right to disconnect any caravan/campervan that does not have a current electrical warrant of fitness.
Speed
Walking pace only for cars, bikes and scooters. Our roads are a 'Shared Zone' for all pedestrians, bikes and vehicles. WATCH out for Children please.
Parking
Vehicles must be parked on your own site only, not on driveways or neighboring sites unless previously arranged with management.
Boat Parking
There is limited space for boats and jet skis. It is a first come first served basis for these spaces. If there is no boat parks left they must be parked on your own site or out on the road.
Smoking
In compliance with New Zealand law, smoking and vaping are not allowed in any public buildings, communal areas or accommodations. If you wish to smoke or vape, please do so away from the vicinity of buildings and other guests.
Visitors
Visitors are welcome to the park, but must leave their vehicles on the road. All visitors are at the sole discretion of the management and must report and registrar at reception.
Visitors will incur a $10 charge per person or a charge of $30 per family (2 Adults and 2 Children). Additional members to a family party will be charged at $10 per person.
All visitors are the site holders responsibility and must leave the park by 10:00pm.
Visitors are required to wear an armband when onsite. Please do not be offended if visitors who do not register at the reception are asked to leave the park. This is for resident's security and enjoyment of park facilities.
At busy times, visitors may not be able to use the swimming pool facilities.
Damage
A damage deposit is required for all roofed accommodation bookings. The person listed on the booking is responsible for any charges incurred due to any damage, breakages or soiling of park property.
Child Ages
Children must be supervised by a parent. Child ages are 2 to 14 years inclusive – where child rates are offered. On all accommodation infants under 2 years are free.
Pet Policy
Pets/Animals are NOT permitted into the Park. Pets/Animals are NOT permitted in roofed accommodation – no exceptions.
Bike/Scooter/Skateboards Policy
Parents are responsible for children's safety and well being.
Safety and consideration to other guests is critical when riding bikes, skateboards, or scooters. Helmets must be worn when riding bikes. As a safety measure, Bikes, skateboards, and scooters are not to be ridden in the park grounds once the park lights come on and must be away at nightfall (as soon as the security lights come on). They are not allowed around the communal blocks or on decks. Any found in these areas will be removed.
As a safety measure Children are not permitted to ride their bikes or scooters around the main entrance of the park.
Gang insignia
Gang insignia including patches must not be worn or displayed in the park.
Fireworks/BBQ's
Only Gas BBQ's are allowed in the park. Please make sure all BBQ's are safe for use and gas is turned off after use. Strictly no open wood or charcoal fires. Fireworks are not permitted in the Park.
Drones
Drones are not allowed to be flown in the park due to air restrictions and New Zealand privacy policies.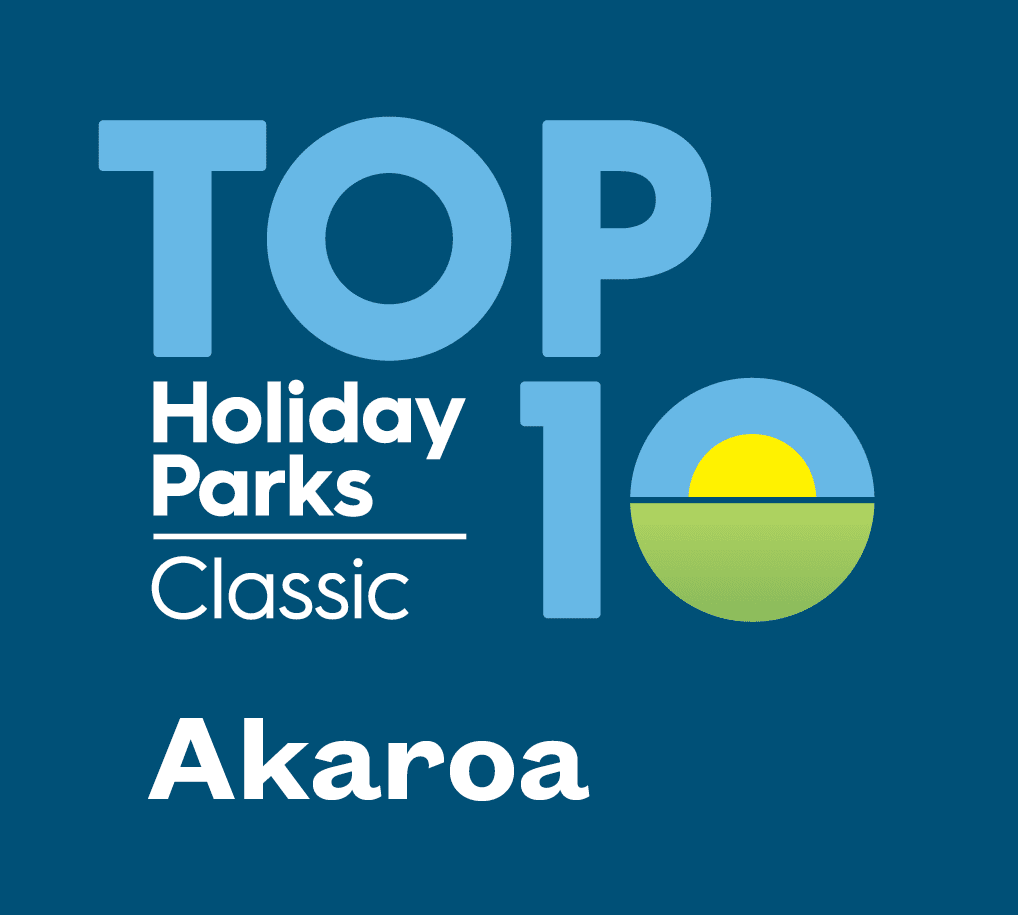 Akaroa Top 10
Holiday Park
96 Morgans Road
(Off Old Coach Road)
Akaroa, New Zealand